Alice's Dreamtime;


My first full editorial shoot with stylist and fashion editor Rhiannon Bulley. We shot this in December 2009 as an editorial submission that very very nearly ran.  We drew our inspiration from Peter Weir's classic Australian, period mystery drama film 'Picnic at Hanging Rock'; and extended our visual vocabulary by looking at the works of Julia Margaret Cameron and he of 'Alice' fame, the Reverend Charles Lutwidge Dodgson AKA Lewis Carol.  Both Dodgson & Cameron photographed
Alice Liddell so this provided us with even more  visual pointers for our story.


View Large

Hannah Macleod Fields of Love dress worn over stylists own dress, 
Stylists own hat Luker Limited Crystal cameo neckpiece with ribbon,
Luker Limited Black and silver cameo neckpiece. 
Strummer Jaipur Dress
Mrs. Press Vintage Bib worn on top
Stylists own shoes in hair.
Stretsis Forget Me Not Dress and Stylists own bib worn on top
Dollhouse furniture from Just white part of set.
Shoes Strummer Old Timer Platform BLACK AND GREY worn throughout.
An Ode to No One top worn underneath Strummer Painter Blouse
 and Vintage top from the Darnell Collection, Bloomers from the Darnell Collection
Furniture from Just White part of set.
Rock and Royalty necklace.
Vintage underwear from the Darnell Collection worn underneath
Konstantina Mittas Playsuit, Hat stylists own.
Luker Limited Black cameo neckpiece with grosgrain ribbon ruff. 
The Stolen Girlfriend Club Maria Lace Dress, Stylists own Bonnet worn as necklace.
Rock and Royalty Charelston Necklace Black worn on top
Stylists own hat, Stylists own vintage parasol.
Vintage top from the Darnell Collection worn under
Hannah Macleod World Peace dress and Rachael Cassar top.
View Large
Konstantina Mittas French Cotton Lace top and Organza Tutu,
Mrs. Press Vintage lace top worn as jacket, Rock and Royalty shine necklace. 


Stylist, Rhiannon Bulley
H&MU, Kaori
Model, Melise @ Platform Sydney
Photography, Kent Johnson
Assistants, Harry Perlich, Guy Woolrych
Production Notes
After a couple of meetings and emails back and forth Rhiannon & I settled on the idea of simply trying to shoot the essence of what we thought 'Picnic at Hanging Rock' was about.  A dreamy school girl mystery where nothing seems real (a bit like Alice in Wonderland really)! My job then was to find a suitable location that would lend itself to an ethereal pictorial plot. Fortunately I hit pay dirt at my second location which has been a Sydney favorite of mine for many years. As this shoot was a complete return to my old 80s style of shooting, using full manual focus; (not so easy in the digital age) I did a complete shoot of the location working as I intended shooting on the day. These shots (quite lovely and dreamy landscapes in their own right) became our location book for, and the guide to our story about Alice.

On the day of the shoot Kaori did the hair & make up for the first shot at The Photo Studio in Glebe then we all headed out to the Eastern Suburbs for our shoot. With our location book in hand we smoothly and efficiently worked our way through the shots. Melise who was just back from shooting in New Zealand was having a great time, loving Rhiannon's styling and Kaori's fabulous hair-dos. Harry and later Guy providing me with much appreciated support with the trusty reflector and card changes. Thanks everyone for a great day.

As a result of the slightly off-beat in-camera shooting process most of this shoot is quite literally 'developed' in photoshop. I then applied a watercolour wash also in photoshop to finalise the antique feel of the shots in our edit. As part of the process of pitching the shoot we made a very beautiful set of A4 Giclée prints on mat watercolour paper further enhancing the vintage feel of the shoot. If the idea of an archival  Giclée folio of this shoot appeals to you or; if you would like to publish these images, please feel free to drop me a line.

Finally, two of the shots of Alice Liddell the helped shape our shoot. I hope you enjoy it as much we do.

Alice Liddell photographed by
the Reverend Charles Lutwidge Dodgson.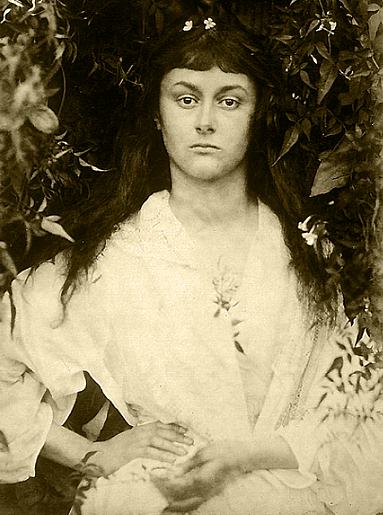 Alice Liddell photographed by 
Julia Margaret Cameron.